My Figures
Blackberry Rabbit Family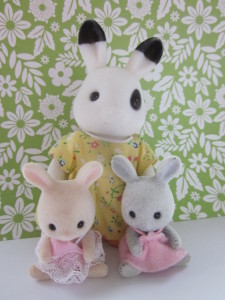 Mother Chelsea Blackberry
Mother Chelsea Blackberry loves fruit. She sells fruit, jam and juice at the juice bar. She also has a pation for little children and would love to adopt one from the orphanage when theres one the age she likes, 1-2 years old. Like Jane, she would also like to adopt one because she feels sorry for all the orphans that life there and it would be terrible if a little child had to spend its life there.
Baby Connie Blackberry
Connie is a lovely 2yr old and was adopted by Chelsea a day after she came to Basswood Creek. She loves to play with her nursery friends and after Chloe and Strippy finish school she often plays with them. Connie loves going on se saws and is constantly begging her Mummy to take her to one.
Baby Laura Blackberry
Laura is a a sensetive little girl who loves swings, unlike her sister, she enjoys being alone but has made good friends at nursery. Her favourite fruit are grapes which she eats nearly everyday.
Billabong Koala Family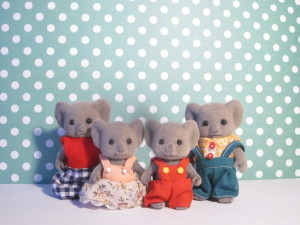 Father Rolf Billabong
Rolf was the very person who set up the Man Projects Club, which all the men of the village attend.He also does random jobs around the village and helps Robert with his building jobs and Robert really appreciates his help. Like all of the other adults he adores his children and can always be found if he isn't working, playing soccer with Clive and picking flowers with Gerimine.
Mother Matilda Billabong
Matilda likes pretty shoes and sells them at the shoe shop. Many customers don't really want to own shoes but to wear them sometimes so Matilda has set up a shoe borrowing system which allows customers to "rent" shoes for a day and bring them back once they are finished using them. Like her husband, she adores her children (and her husband!) and tries to organise family trips as much as she can.
Brother Clive Billabong
Clive loves playing soccer and hanging out with all of his friends.
Sister Gerimine Billabong
Gerimine loves the colour pink so its no surprise that flamingoes are her favourite animals. Pink clothes, pink flowers, pink…… …….anything!
Chocolate Rabbit Familny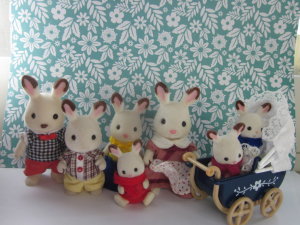 New picture coming soon
Right Fraiser Chocolate
Fraiser runs the local gymnastic club. Annie Fisher, is a very talanted gymnast, she may be small but has a very incredabe ability to bend and twist. She learns very quickly and Fraiser is very proud of her.
 Left Teri Chocolate
Teri runs the orphanage. The orphanage is very busy and is filled with lots of little children which Teri has to take care of and try to find a home for.
 Middle Left Coco Chocolate
Coco is what his name suggests: He loves coco! He drinks it 3 times a day and never gets tired of it.
Front Oscar Chocolate
Oscar is definitely an outdoor type. He loves to run around and pick wild flowers for his mother in the woods and climbs trees with Alfie but he always seems to get stuck.
Front of pram Jane Chocolate
Jane is different from her brother Oscar. She likes nothing better than being at home or at the nursery, playing with the toys and reading books.
Back of pram Brezzee Chocolate
Brezzee is a very quiet boy. He spends all day playing with two wooden cars and staring out of the window.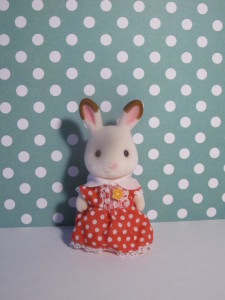 Cousin Rose Chocolate
Rose is a quiet girl who loves to hang out with Lisa Acorn and is beginning to like fashion like her. She also likes ballet.
Fisher Cat Family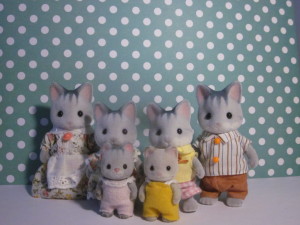 Right, Father Perkin
Perkin loved books ever since he was little, now he runs the Basswood Herald, the village newspaper. He also gives out free books to children so they can improve their reading skills but only if they promise to bring it back. He also loves Fishing, dancing and working on "man projects".
Left, mother Dorothy:
Dorothy works at the bakery all and every day and it is very rare that she will take a day off so family time is very precious for the Fishers. She has also a passion with vegetables and gardening, she loves her family very much and is delighted to have adopted Annie in the family.
Middle Right, Brother Ashton
Ashton finds everything hard, like when he is washing his hands its all wet and slippery or when he tries to set the table…
Middle Left, Sister Zara
: Zara is very ladylike and grown up, she is very sporty and loves to run do ballet or swim, most of all she likes to ride her beutiful horse Star. She is close friends with Freya.
Front, Right, Annie Fisher
Annie is a lovely hardworking school child. She is very responsible and loves to play with her friends.
Front Left, Lulu fisher.
Lulu loves sport but not running or something like that, she loves to do ballet, attending riding lessons like the rest of her class and doing handstands against the wall with her friends.
Marmalade Bear Family


PICTURE UPDATE SOON
Right Father Harry Marmalade
Harry owns and works at the Pizza Parlour. He loves to make pizzas and having fun with his children. Most of all he likes swimming and Horse riding with them, also one of his favourite things to do is dancing with his wife, Lauren.
Left Mother Lauren Marmalade
Lauren now teaches the children because Savannah is now too busy. Dorothy Fisher was her best friend in primary school and after many years, they have seen each other again. They have an extraordinary friendship.
Middle Right Brother Jack Marmalade
Jack is just football crazy he just loves it. Therefore, it was not a surprise when he found friends (Clive Billabong and Ashton Fisher) on his very first day in Basswood Creek. They love football, just like him.
Middle Left Sister Kyra Marmalade
Kyra LOVES gymnastics she is very good friends with Nelly Trunk who also likes gymnastics. Her favourite move is a handstand into bridge.
Chloe Marmalade

Chloe is very quiet and plain, she's not much good at anything. She plays with Strippy and loves to talk a bit when everyones out of earshot. Srippy has  given her more confidence to speak infront of people and she has found a passion for flowers and plants. She loves to draw. Recently, she had been adopted by the marmalades.
Mcpurr Cat Family
 
Mother Marie Mcpurr
Marie works at the bakery as a waitress, she dishes out cakes and serves customers, in her spare time she likes walking in the country side and picking flowers. Marie is a good tempered woman, she loves Jayrene.
Younger sister Jayrene
Jayrene is a very quiet girl who is very thoughtful. She has lots of great friends like George and Milly, she loves sewing.
Trunk Elephant Family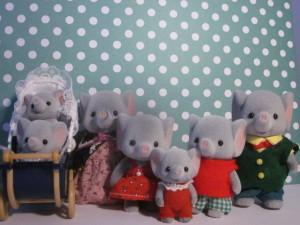 Right Father Hugo Trunk
Hugo Always had a dream to become a doctor since he was a child, now as well as being the mayor of Basswood Creek he is a doctor in his very own clinic. Also he loves to read and work with children.
 Left Mother Savannah Trunk
Savannah always disliked the city so finally she declared they would move to the country. Savannah is very clever and loves to study flowers and organise things, she runs a treat and water stand beside her house.
Middle right Brother Ivor Trunk
Ivor was not that happy to move to the country because there would be no car noise when you wake up. He was surprised to find out that there were no takeaways there!
Middle Left Sister Nelly Trunk
Nelly was also sad to leave the city because she knew that she would leave her friends behind but she soon forgot to be sad when she was told she could have gymnastic  lessons and a horse of her very own.
Middle of Nelly and Ivor, Alexander Trunk
Alexander wants to be a builder when he grows up. He's always sketching up plans and building it with the building blocks. He also has a passion for berries, serving up delicious berry treats.
Front of pram Willow Trunk
Willow loves to play "prarie cart life", its when she& Alexander put their horse Isabell on her rope and tie her to the handle of their pram. Willow sits in the pram while Alexander rides the horse. They put food and water at the back, oh what a lovely way to spend a summers day!
Back of pram Jamie Trunk
Jamie is a bit destructive in the nursery and at home. Its not that he's really naughty & cheeky it's just that he doesn't know any better! But latley he was a very good boy indeed.
The orphanage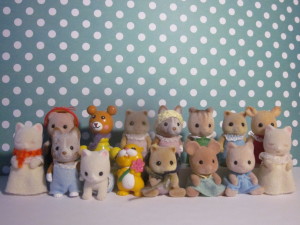 PICTURE UPDATE SOON
Strippy Stripe
Strippy is a number one friend. If someone is new the town and is his age, Strippy is always picked to show them around and play with them till they have found friends of their own. Strippy also loves to help Chloe gain more confidence when speaking infront of other people and like her he loves to draw.
Rosmary Slydale

Rosmary loves rosemary, she often picks her friends flowers tied together with rosemary or she sprinkles it with rosemary or…
Bettina Gingerbread
Bettina is very energetic. You can always find her riding, swinging on bars, doing ballet or doing handstand competitions.
Tim Slydale

Tim loves teamwork. He's always in a group with many people because he thinks the more different brains you have the better and easier it is.
Matthew Buckley
Matthew enjoys nature and books. When he grows up he wants to write books about nature, its animals and its wildlife etc.
George Bans
George is very good at making friends; he does not care if it's a boy or a girl. Actually he's best friends Chubby , a girl. He has only one friend that is a boy, Brezzee.
Chubby Smart
Chubby loves the colours yellow and blue. Her favourite things are opposites. She loves the dry crumbly yellow sand and the deep cold wet blue water, that's why she ADORES the beach. Chubby makes giant sandcastles and loves to splash her friends dripping wet in the cold blue sea.
Linda Slydale

Linda seems quiet to others but actually enjoys talking, she talks very much to her friend Jane. Jane has by now learnt that she should never interrupt when Linda has news because either she glares at her or ignores her completely!
Doormouse Mouse Family
Father Henry Doormouse
Henry was once a famouse chef but in the last couple of years he went traveling around the world and saw many countries. But his favourite was austria because he liked fir tree forests, skiing, country side and their traditinol clothes, dirdle and lederhosen. But now he works at the pizza palour and looks after Milly.
Younger sister Milly Doormouse
Milly loves her daddys food and is intrested in his travels. For her he is the besr dad in the whole world and she wants to be just like him. She is a very keen little chef and and her father calls her"my little apprentice" sometimes when they cook together.
 

Robinson Red Panda Family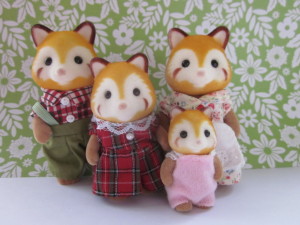 Father Robert
Robert is an expert in wood carving and furniture building, he builds creative furnature and loves to paint them. Thanks to him, the nursery has a craft table, beutiful swing and a lovely piano. When he is not on a craft project of asome sort, he likes to do some exersise and spend time with his wife and children.
Mother Hilda
Hilda works at the nursery, teaching little boys and girls. her favourite time of the day is at 10.00 since thats when at Nursery they have activity time where all the children must do something active like playing ball or dancing to the songs Hilda plays on her wooden Piano.
Older Sister Francis
Francis is a very active girl who loves running about in the lovely country side, climbing trees, crossing streams and picking flowers for her mother. She is very good tempered and is willing to help anybody though she does get a bit grumpy when she has to look after her siter or do her chores.
Younger Sister Elise
Elise is like her sister very good tempered and loves to play dolls whenever she can, her doll has blonde hair and a red dress. Sometimes she can quite annoying when she folows you everywhere and keeps asking questions.
Alfie Walnut
Alfie is either up a tree or under a tree cracking walnuts. He and his friend Oscar have tree climbing competitions or have a game of how-many-walnuts-can-fit-into-your-mouth. It was Alfie who said that Annie could play with them after George and Carrie didn't want to play with her anymore. Now they are the best of friends. Alfie also loves being an adventurer and go absailing off the top of Annies house.