A New House!!
hi!
I don't actualy mean a real famiy house, more of a holiday relaxment house. Its made out of about 75 popsicle sticks, the popsicle sticks got glued into parts ( walls, roof, floor, ect.) by PVA craft glue and then put together with the help of my friends hot glue gun. I made some little adjustments to a bit of the roof but that was all, really, my friend did a great job! I am using the words "my friend" instead of her real name because I don't know if she wants her name mentioned. So, here are some photos I took!
So, this the outside, Sorry for the background. I had to make do with my jacket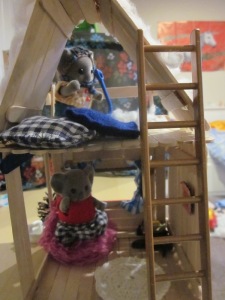 Thats the inside, I need to get a stove in there somewhere. The Billabong parents had already taken a day off work and Booked& moved in for two nights and thats why they are here.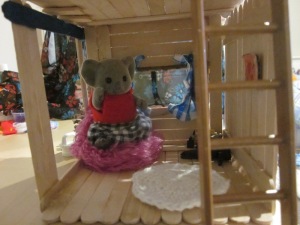 This is a close up on the ground floor, the next picture is better.
There, the wood in the corner is a little fire which the Billabongs use instead of a stove. Actually the thing Matilda is sitting on is a hair tie, can't really tell, right?
Upstairs theres a little sleeping loft.
Rolf is busy digging away the snow on the balcony. An hour before he had actually had all the snow of the balcony but then some fell of the roof so thats why Matilda made him dig some more.
………………………………………………………………………..
On my friends, Kyras, blog I put a comment to say I was going to do a post on my sofa that I made, I also have thrown in some pictures of other furneture items i have made.
This is the sofa and arm chair,
the sofa alone,
and the armchair.
Heres a TV I made, you can pull out one program and put in another!
A bathroom. The pink mosaic comes from a craft store and makes the bathroom look so much better.
………………………………………………………………………….
I have started on my links page, four links are up already. It will be done in about three days or so.
Emily